We're gearing up for the release of LOCK & MORI: MIND GAMES on December 6, which means that Heather will be making appearances on quite a few YA blogs and websites. Please check back regularly for interviews, reviews, guest posts, and giveaways!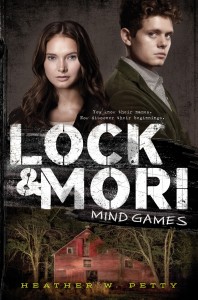 LOCK & MORI: MIND GAMES
NOVEMBER 28:
Fiction Fare: Review
NOVEMBER 29:
Awkwordly Emma: Q&A
NOVEMBER 30:
Da Readaholic Book Blog: Review
DECEMBER 1:
The Irish Banana Review: Guest Post
DECEMBER 2:
Here's to Happy Endings: Review
DECEMBER 5:
Mundie Moms: Q&A
DECEMBER 6:
Don't Fold the Page: Review
DECEMBER 7:
A Binding Attraction: Top 10
DECEMBER 8:
Sophie Reads YA: Review
DECEMBER 9:
Kara the Redhead: Playlist
Keep in mind that most of these sites are offering giveaways as well. Be sure to enter if you'd like to win a free copy of LOCK & MORI: MIND GAMES!