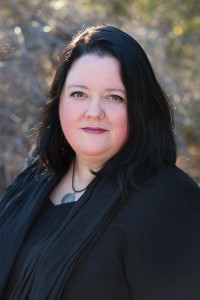 Heather has been obsessed with mysteries since she was twelve, which is when she decided that stories about murders in London drawing rooms and English seaside villages were far superior to all other stories. She is the author of the Lock & Mori series, a Sherlock Holmes origin story told from the perspective of a sixteen-year-old, female Moriarty. She lives in Reno, Nevada with her husband, daughter, and three hopelessly devious cats.
Photo © 2013 by Ari Nordhagen.
FAQ

Where do you live?
I live in Reno, NV. It's a desert surrounded by mountains, so we get to have hot, dry, dusty summers and bitterly cold, snowy winters. The weather is not my favorite part about this place. The best way to describe my town is with the three biggest events of the year: the Reno Rodeo, the Great Reno Rib Cook-off, and Hot August Nights, a week when everyone talks about old cars or something. I've lived here like 20+ years and I'm still not sure what all goes on that week. We also host Street Vibrations, which is a week where everything sounds like overly loud motorcycles.
Are you married?
I have a husband who I call The Lumberjack, because he is a giant man who is overly fond of plaid flannel. He also comes from where Christmas trees are born and bred: Oregon.
Any kids?
I have one daughter. She's obviously the most amazing girl child who has ever walked the planet, renowned for her beauty, wit, and charm. She gets it from her mom. (cough)
Pets?
We have four cats: P-Star (old lady calico), Java (black cuddle queen), Callie (calico ferocious sweetheart), and Etcetera (fluffy gray thing).
What kind of weirdo has four cats?
The kind who loves having cat hair all over everything all the time. You also have to be someone who recognizes their place in the Cat Hierarchy: 1 – Food, 2 – Sleep, 3 – Cat Nip, 4 – Humans.
Did you go to college?
I have an English degree with a Journalism minor from the University of Nevada, Reno. (Not the most marketable of degrees, but I managed to find employment.)
You have a day job?
Not at present, but I was a Technical Editor for various casino gaming/lottery companies for over 15 years.
How did you become an author?
I got my first agent in 2009 with an Urban Fantasy novel about faeries at summer camp, but the market was already shifting away from Paranormal/Urban Fantasy and toward Dystopian at the time. I had zero interest in writing Dystopian. So I wrote a lot of paranormal and urban fantasy that had no chance of selling, but still taught me a lot about crafting novels. And right before my second agent decided to retire from the business, I came up with this idea about a female Moriarty meeting Sherlock Holmes in high school. It took me a while to write it, but I finished the book and found my current agent, Laurie McLean, who sold the book to Simon & Schuster in the Fall of 2013.
Sounds like you've had a lot of agents.
I'm on my fourth. And I hope she'll be my forever agent, because she is rad.
Can you give me advice on how to become an author?
So that's a really big question. I think I'll suggest this as a first step:
Focus on becoming a writer first.
Becoming an author is when you get into all the professional/business type stuff that takes away from what you really want to do as an author: WRITE.
Becoming a writer is the fun bit, where you learn by creating and reading other people's creations, and then creating some more.
So, to become a writer, I have these suggestions:
Read as much as is humanly possible. Read ALL OF THE BOOKS. Read in genres and categories you never thought you'd be into. Read the high literary stuff that takes longer to read because you need digesting time. And then read trashy just for fun stuff that makes you stay up into the night. Need suggestions? Become BFFs with your school librarian and ask him/her. Librarians spend most of their time wishing that someone would ask them for book recommendations. THEY LIVE FOR THAT.

Read your favorite books twice. The first time to realize they are your favorites. The second time to see how the author put her story together. That's called "reading with the eyes of a writer."

LISTEN TO YOUR ENGLISH TEACHER LIKE SHE IS YOUR FAVORITE PERSON EVER. I know. English class? YES. Pay super close attention in English class. Are you diagraming sentences? PAY ATTENTION. Are you learning to write an essay? PAY ATTENTION. All of that is teaching you how to be a better writer. And it's FREE. And I bet money that if you asked your English teacher to read one of your stories on the side and give you feedback, she would. And she'd be so excited to do it. Because English teachers are generally rad people. (If yours isn't…wait a year and your next one probably will be. I'm telling you. They are mostly rad.)

Write all the time. Write every day. Carry a composition book with you like artists carry sketchbooks. Write down all of your craziest ideas and write out weirdo scenes when they come into your head, even if they have nothing to do with the book you're working on now. Keep your comp book next to your bed so that you can write down that one really great idea you have while falling asleep or that dream you had that sounded really good at the time. It will probably sound less good in the morning, but write it down anyway.

When you have a completed story of any length, find a local writers group or critique group. If you're writing for kids/teens, look up the local SCBWI group. If you're writing romance, look up RWA, etc. There are writing groups for every genre and category, and there's bound to be one in your area. This is another opportunity to talk to your librarian (school AND public) to ask if she knows of a group like that. See if you can find a teen-writer's group online or post something on Wattpad.
And here's the hard part… LET OTHER PEOPLE READ YOUR WRITING.
(Insert panicked WHAT?!?! here)
I know… it's rough. They may hate it. They may even say not nice things about it. Some people are jerks. But you know that you're going to be a super star writer some day, so you're going to take everything they tell you and work on it so you can show them how awesome you will become.
The truth is that the first book you write will probably not be the one that makes the world cry over your genius. Some of my very favorite authors wrote five or ten or even FIFTEEN full books before they found the one that broke them into the publishing world. (I wrote four.) But every book you write will teach you more and more about what it means to be a writer.
So… right now, focus on the writer part. Learn your craft like a painter learns technique. Learn about story by immersing yourself in the best stories you can find.
The author stuff comes after all of that.
Okay, so how did YOU become a WRITER?
I was always a huge reader, but I never thought about becoming a writer until my high school English teacher, Author Terri Farley (Phantom Stallion series) read an assignment I'd turned in and basically told me I needed to be writing. So, I joined the school paper. Then, in college, when I was kind of over the Journalism thing, I applied for a fiction writing class with Author Susan Palwick, who later taught me one-on-one. She really helped me find my niche as a kidlit writer.
I joined SCBWI shortly after I graduated, and my very first critique (of a really horrible middle grade book) at a conference was from Ellen Hopkins, whose debut novel CRANK was coming out later that year (2004). (Crazy, right?) She was very patient with my rookie writer ways and encouraged me to keep going. But I had a baby the next year and floundered for a bit with my writing until Author Cynthia Cotten read one of my silly LiveJournal posts one night and told me I should be writing YA. She pointed me in the direction of authors like Melissa Marr, Charles de Lint, and Holly Black. I was especially taken by Holly Black's Tithe series, and started writing my own YA within days of reading VALIANT. 
What inspired you to write LOCK & MORI?
I read an article on nemesis relationships, where the writer mentioned offhand that everything we know about Moriarty is what Sherlock tells us, as he's the only one who meets Moriarty in the canon. That, to me, was a super delicious gap in the story that was begging to be filled. Pretty much any time I can ask the question "What if?" I get super excited. In this instance, I thought, what if Sherlock lied to Watson for some reason? What if he'd known Moriarty since they were kids? What if something that happened when they were kids is why they're rivals as adults? The story kind of spiraled out from there.
Why make Moriarty a girl?
At first she was a boy. I was really excited to write a kind of bromance/power struggle/friends-but-rivals kind of dynamic. But every time I re-read a scene, Moriarty just sounded like a girl to me. And when I finally gave in and realized how fun it would be to write a girl villain who is exploring her darker self and who uses her intellect instead of her sexuality to get what she wants…I was hooked. I couldn't go back if I wanted. Maybe someday I'll be able to write the bromance of my dreams.
Were the Sherlock books your favorite when you were a kid?
No… (ahem) I liked them okay, but I really preferred Agatha Christie and Dorothy Sayers and Elizabeth Peters. I really fell in love with Sherlock while watching Jeremy Brett play the role. And when I reread the series later on, I was amazed at how modern the narrative style was. But mostly I fell in love with the intricacy of some of the stories and the messaging and style.  
Who are your favorite authors?
Patricia McKillip
Terry Pratchett
Holly Black
Agatha Christie
Dorothy Sayers
Leigh Bardugo
Elie Wiesel
George MacDonald
C.S. Lewis
Virginia Woolf
What are some of your favorite books?
The Alphabet of Thorn by Patricia McKillip
Till We Have Faces by C.S. Lewis
Phantastes by George MacDonald
Murder on the Orient Express by Agatha Christie
Jane Eyre by Charlotte Brontë
The Little Prince by Antoine de Saint-Exupéry
Mosquitoland by David Arnold
Good Omens by Terry Pratchett and Neil Gaiman
White Cat by Holly Black
Paper Towns by John Green
The Weight of Feathers by Anna-Marie McLemore
Unspoken by Sarah Rees Brennan
The Graveyard Book by Neil Gaiman
Going Bovine by Libba Bray
Equal Rites by Terry Pratchett
Impulse by Ellen Hopkins
What are you working on next?
This is always a secret. But I promise to give you news when I have it!
QUICK FIVE
Favorite Movies: Superhero movies, Shakespeare remakes, anything with Idris Elba in it…
Favorite TV Shows: I mostly watch Korean dramas and variety shows, BBC mysteries, and binge Marvel series and seasons of Great British Bake Off.
Last Shows Added to Your Netflix Queue: The Doctor Blake Mysteries, Mystery Science Theater 3000 – The Return, and Limitless.
Favorite Manga: Deathnote
Places You Want To Visit: Amsterdam, Wales, South Korea